ABOUT US
Tehnomerkur was founded in 1970 as a workshop manufacturing car parts and plastic parts. During the last 15 years we have focused a part of our capacities towards manufacturing metal accessories and other metal products. Today, we have grown into a leading manufacturer of products for furnishing all kinds of warehouses and retail spaces. Our product range is being constantly expanded and upgraded.
Our manufacturing plant in Stara Pazova covers an area of around 9.000 m². About 60 workers, among the others engineers, technicians, locksmiths and carpenters are employed there.
The decades-long business is followed by the continuous innovation. We are improving our competitive­ness expanding and refreshing our unique and original product range. Tools we use we have been devel­oped by ourselves. Our modern tool room is supported by the Development Sector in charge for creating new products and improving existing ones. This workshop covers an area of 400 m² where highly quali­fied workers make and develop tools we need for our production processes like sheet metal bending, punching and deep drawing. Tools for injecting and extrusion of plastic can be produced there, as well.
The machinery of our manufacturing plant includes hydraulic and eccentric presses from 15 to 250 tons, mechanical scissors and electrostatic powder coating plant. Alongside advanced technologies and mod­ern machinery for metal processing, we also have a section for casting and extruding plastic products. In order to improve our products we plan to enhance our manufacturing with two more presses.
We are exceptionally proud of metal sheet deep-drawing technology that was brought to perfection in our plant. Deep-drawing is a metal sheet forming process in which metal blank is shaped into the par­ticular object without cutting or welding using punch and forming die. This process is used to manufac­ture wide range of products. We use deep-drawing to manufacture number plate holders. It gives the holders unique and original look which is proven by the Document on Industrial Design Right. Besides holders, we use this process to manufacture table ash trays and decorative rosettes.
Starting from this year, we have upgraded our production cycles with two CNC machines - Euromac BX Autoindex, a punching machine and Salvagnini, a bending machine.
EUROMAC BX Autoindex 1000/30-1250 is a CNC machine meant for various punching and cutting. Depending on the special requests, not only upon the shape, but on a material type as well, there is a wide range of punches, strippers and dies for quick and quality blank processing. Besides punching, same machine can be used for punch, to produce the objects of very small sizes and complex shapes.
Maximum punching force: 300 kN (30 t)
Maximal sheet weight: 200 kg
Overall dimensions: ⤭ 2230 x 2790 mm
Thickness range: ≠ 0.5 – 10 mm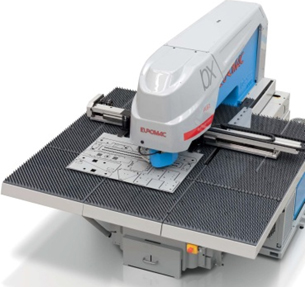 (Euromac BX Autoindex - 2015 godina)
SALVAGNINI P4 is a combined technology, a CNC bending machine which bends blank using universal tools. It is a highly flexible, efficient and automatic system. With its refined software cycles it is able to produce a wide range of panels with four universal bending tools. Its proprietary bending algorithms de­liver extremely fast and accurate movements, ensuring high standards of product quality. This machine has potential to achieve outstanding results if it operates along side with punching machine.
P4 can bend sheets of various thick­nesses, tensile strength and bend radius. This enables an exceptional versatility. Machine is fed with blanks where bending unit make number of bends until bending is completed according to the pro­gramming. Software provides a complete control over the blades. This deliver complex bending that is almost impossible to achieve by other methods with exceptional speed and quality.
Maximum bending sheet dimension: 2250 mm x 1250 mm.
Maximum bending sheet diagonal: 2500 mm.
It bends up to 2 mm thickness and up to 135 degree angle.
Up to 180 degree angle is bends only 1,25 mm thick sheet.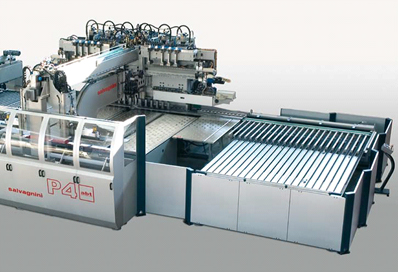 (Salvagnini P4 - 2015 godina)
Besides our high-quality products, we can offer you our services, as well: